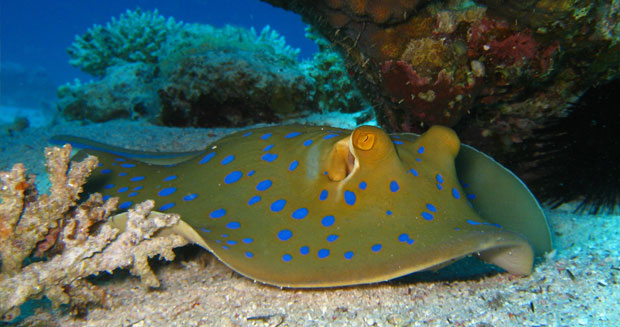 Open Water
The first step for many divers, the Open Water course certifies you dive to 18 meters and means that in many places in the world you can dive without needing a professional with you, well as long as you have a buddy.
The course itself consists of 5 theory modules that teach you what diving is all about, why you need to do certain things under the water and how to stay safe. This is mixed in with five training sessions in shallow water where you'll learn all the skills to stay safe and enjoy your time while diving.
You also have the chance to put the training sessions to practical use during the four open water dives that form part of the course.
The Open Water course normally takes 3-5 days
Price: from €220 to €250
Manual: €30
Don't fancy doing homework on holiday?
If you're looking forward to enjoying time off on your holiday and don't want to have to bother with homework, there are options. The first is to complete PADI's e-learning programme. This allows you to complete all the theory work, including the final exam, in the comfort of your own home, at your own pace. Once you arrive at Divers House, we'll test you on how much you remember and then head straight for the water. With all the theory completed before hand, it means you can spend your evenings relaxing or spending time with friends or family, rather than poring over your Open Water Manual.
Another option is to sign up with a local PADI dive centre and complete all the theory and confined sessions with them before heading out to the sun and warm waters of Dahab to complete the final four Open Water dives. This is a good option if you want to tap into your local scuba community but don't fancy the cold waters of Europe. Choosing this option normally means the course can be completed in 2 days.
Open Water Referal Duration: 2 days
Open Water Referal Price: from €150 to €170